In what was almost overnight, the world has changed. People are quarantined, unable to go to work due to a pandemic spreading across the globe. Remote workers are keeping companies running. Many companies were prepared and many were not. Which one was you?
During this crazy time in history, remote work is the only work that is truly getting done. If you have not prepared your business to allow your employees to work from home, this guide will help you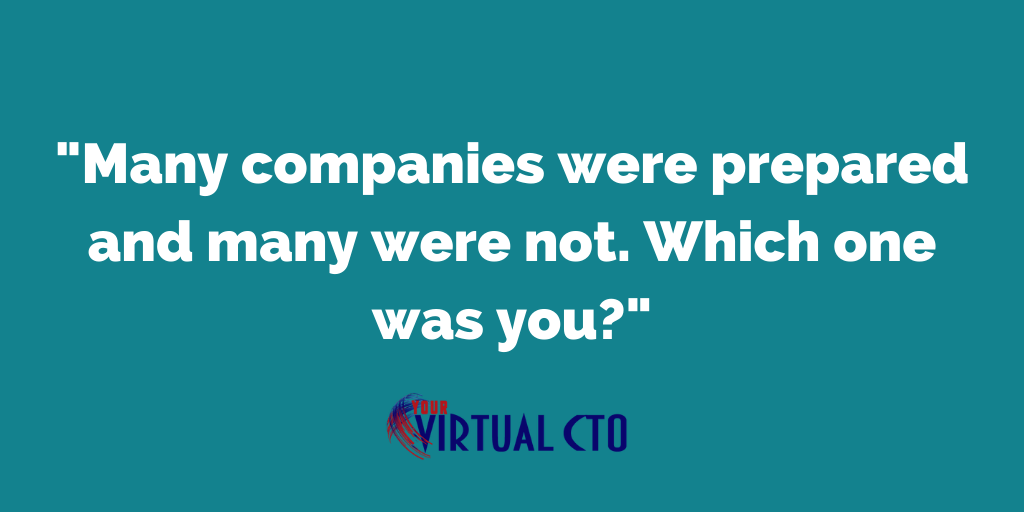 How to Prepare for
Remote Workers
Your Virtual CTO has been a proponent of allowing employees to work from home for more than a decade. We understand the problems as well as the benefits. This guide will prepare your business for remote workers with very little time and effort required.
Create a remote worker policy
For remote workers to be successful, there needs to be a very clear policy in place for how you want work handled. Communication is the key here. There are major benefits to both the workers and the business allowing remote work. This policy can address those if written clearly and concisely.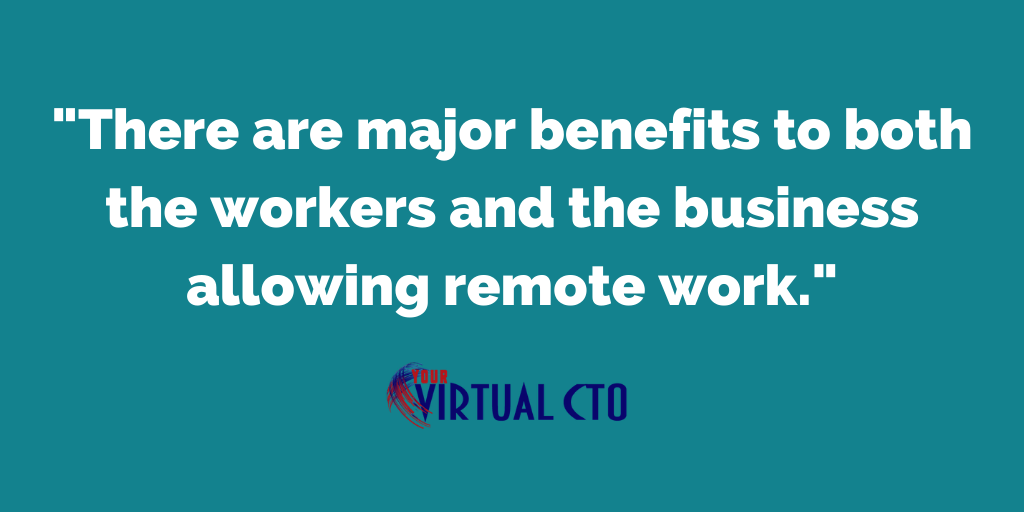 Here is a list of things to consider including in your remote work policy.
Required response time
Work hours expectations
Schedule of video meetings
Required forms of communication
Client confidentiality
How employee productivity will be measured
List of equipment the company will provide
The type of tech support the company will provide
Required Response Time for Remote Workers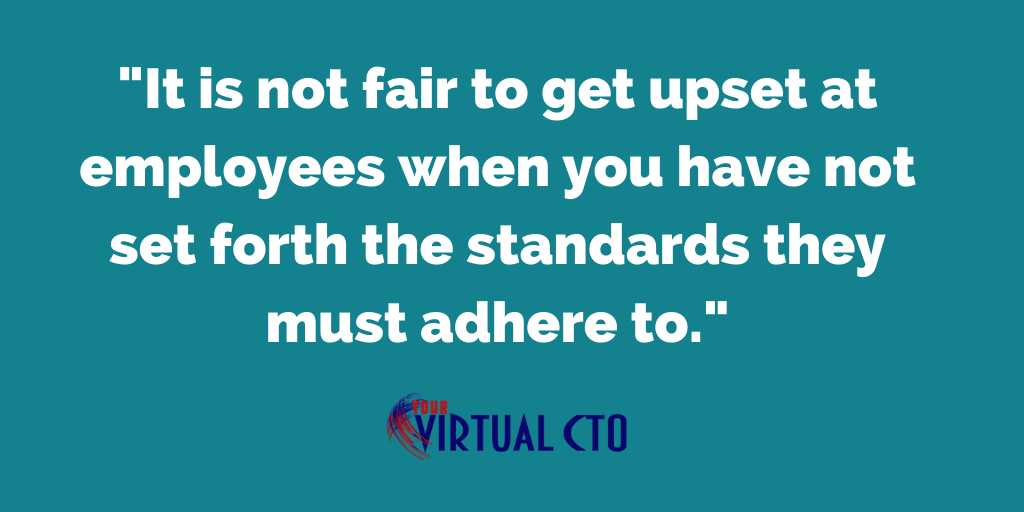 Nobody likes to be left hanging. Sometimes remote workers take advantage of the fact they are working at home and they fit other things into their day along with work. While we find this perfectly acceptable for our employees, we have set an expectation that Slack be checked 4 times each day at a minimum. If we text an employee's phone we expect a response within an hour. You need to implement similar policies around your required response time.
It is not fair to get upset at employees when you have not set forth the standards they must adhere to.

Tweet
It is not fair to get upset at employees when you have not set forth the standards they must adhere to.
Work Hours Expectations for Remote Workers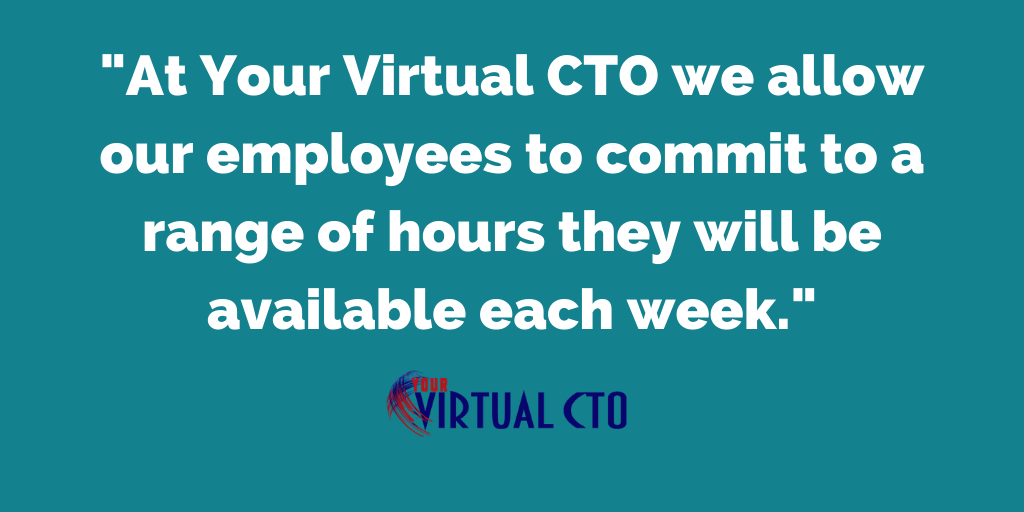 In order to be productive, you need to know when your employees will be working. You can choose to set a schedule for their availability or you can leave it up to them. Each situation is very different.
At Your Virtual CTO we allow our employees to commit to a range of hours they will be available each week. We request to be notified by Friday morning each week of the employee's availability in the following week. This gives us an opportunity to fix any gaps we might see.
How you handle this is completely up to you. If it works best for your business, it is perfectly acceptable to require remote workers be available during "normal business hours" so don't shy away from such a policy if it will benefit your business.
Schedule of Video Meetings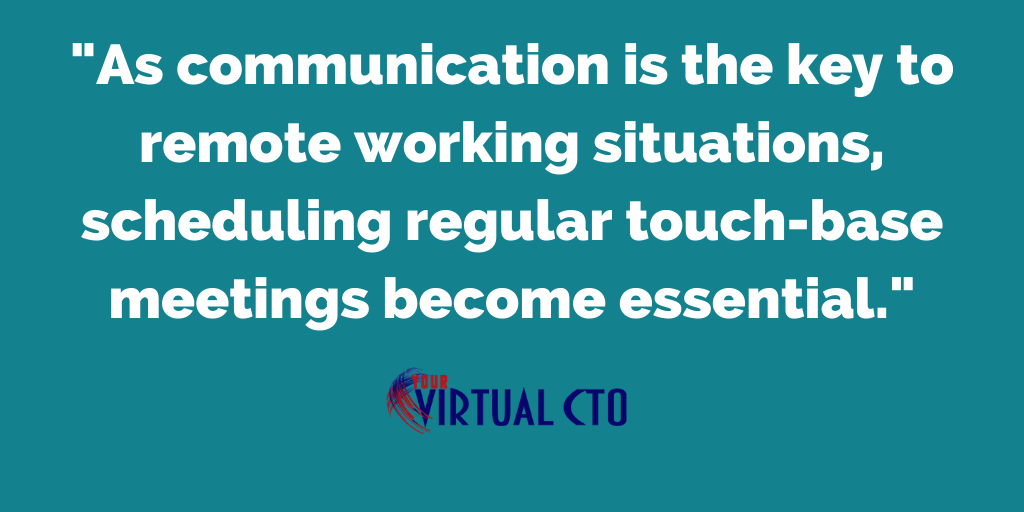 When working remotely, employees cannot simply drop by your office to ask questions. As communication is the key to remote working situations, scheduling regular touch-base meetings become essential. You, as the boss, must be even more available than you expect your employees to be.
At Your Virtual CTO, we have weekly touch-base meetings via video. For this task, we use Meetzippy (or occasionally we will use Zoom depending upon how many people will be included in the meeting). These touch-base meetings are scheduled in advance and are kept to a consistent day and time so everyone knows about them.
Required Forms of Communication
We keep saying throughout this guide that communication is essential to success. Communication can be done by Slack, Microsoft Teams, Skype, video calls, text messaging, What's App, emails, project management software, etc. It is up to you to specify your requirements.
At Your Virtual CTO, we use various forms of communication. We have taken the time to spell out what should be communicated where. We also have an escalation policy that lets remote workers know the path to take if a problem is urgent.
Always spell out your preferred forms of communication and when to use each.

Tweet
To help you come up with your own required forms of communication, let's share what we do here at Your Virtual CTO.
Daily communication is conducted via Slack. This is where we discuss ideas, plan out tasks, and ask/answer questions. Our policy calls for direct messages between interested parties for specific communication with channels used for announcements. We teach our remote workers to use Slack's threading capabilities to make communication that much more clear.
Communication about specific tasks goes in the task itself. There are no exceptions. Have a comment about a task? Add a comment in the task itself. Have a question about a task? Ask it inside the task itself. We find that this enables us to add people to a project and they can immediately catch up on anything task-related by reading the comments.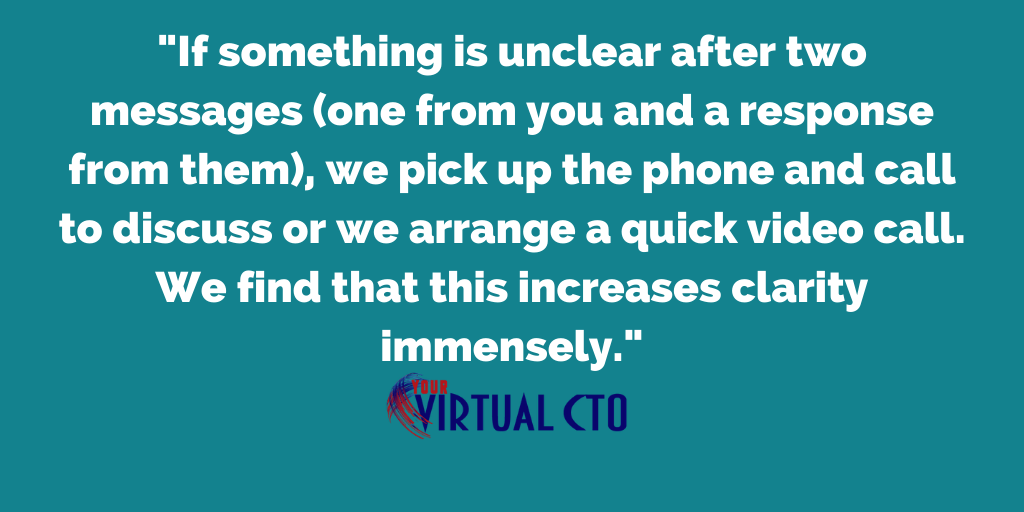 Our project management tool is ClickUp and we find it extremely efficient. It has many features that enable excellent communication between team members.
We discourage the use of email for the most part. We have found that emails get lost in the herd of junk mail most of us receive.
If something is important and a comment about it has been added to ClickUp, we train our people to send a quick Slack message to encourage a look at ClickUp.
We resort to text messaging or phone calls as a last resort. "As seen" communication like Slack or text messaging seems to be more efficient in all circumstances.
If something is unclear after two messages (one from you and a response from them), we pick up the phone and call to discuss or we arrange a quick video call. We find that this increases clarity immensely.
Client Confidentiality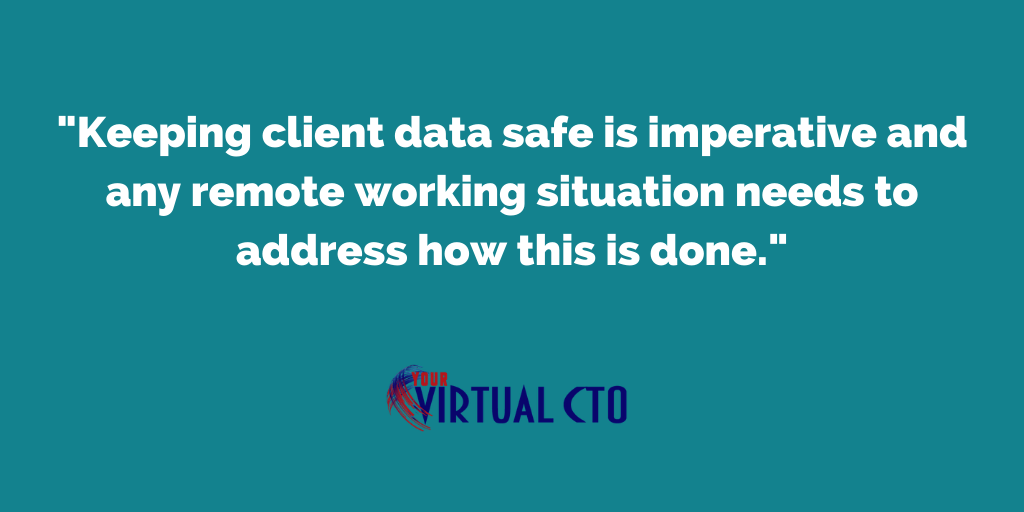 Keeping client data safe is imperative and any remote working situation needs to address how this is done. Implementing software that stores passwords in a way that the person using them doesn't need to know the actual password is one great addition to the program. Remind your remote workers how easy it is to be compromised and then insist on secure methods for exchanging client information.
The fastest way to find yourself out of business is for clients to feel like you aren't showing enough respect for their confidentiality.
How Employee Productivity Will Be Measured
This can be a difficult discussion to have with remote workers, but it is another essential piece of the plan. At Your Virtual CTO we focus on the outcome of work rather than on hours worked. If we have 10 things we need to be completed this week, our focus is on the outcome rather than the hours our people work. "I want you to work 9 to 5" is much less important than the outcome from the work.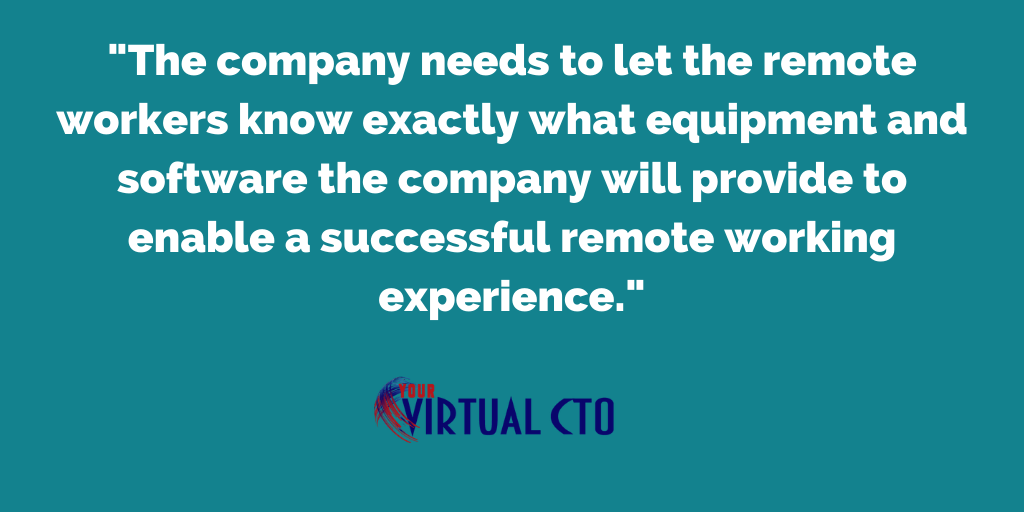 List of Equipment the Company Will Provide
The company needs to let the remote workers know exactly what equipment and software the company will provide to enable a successful remote working experience. These lists need to be very specific and need to spell out exactly what is expected of the remote worker. Most importantly, if someone at your company needs to complete a setup task, it must get done in a timely fashion.
Later in this guide, we will discuss exactly what may be needed to enable a remote worker. AT this point, just understand that who provides what is going to be very important.
The Type of Tech Support the Company Will Provide
Again, remote workers are going to run into issues and they need to know where to turn for support. If you will be providing tech support for things like email issues, let the remote workers know this. Be as specific as you can. Include things such as hardware support, hardware repairs, software support, network support, and equipment acquisition procedures.
Your Virtual CTO: Approved Software and Hardware
Remote Desktop
Imagine your remote worker has a bunch of files on the computer in their office within your business and they need to access them. This is where remote desktop saves the day. This also applies to 100% remote workers who have a desktop computer at home that stores important files.
TeamViewer
The free fan favorite. TeamViewer available for Windows, OS X, iOS, Linux, and Android, and it's free for personal use. File transfer, clipboard transfer, wake-on-LAN, and easy setup make it a great option for remote workers who need basic desktop access. No port forwarding is necessary, and very little firewall futzing is required to get it going. It also supports two-step authentication.
Slack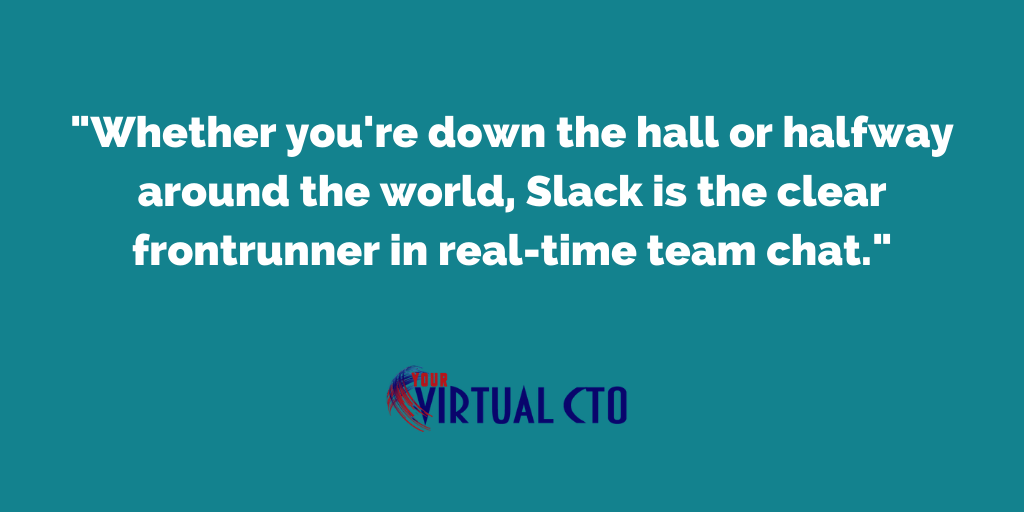 Whether you're down the hall or halfway around the world, Slack is the clear frontrunner in real-time team chat. The basic premise is that Slack spares email inboxes and reduces the number of clunky ccs and bccs you need to manage. Teams can be created around departments, projects, employee fan clubs … really anything you want. Messages are sent out to teams over the transom, or you can DM individuals or smaller groups.
Slack is the front-runner in team communications.

Tweet
Meetzippy
Meetzippy is an alternative to Zoom. It does not include a call-in phone number, instead, requiring that you use a headset with a microphone in order to speak to the other members present in the meeting.
Meetzippy allows you to create rooms–both public and private–and even allows you to add a password to the room. I use a specific Meetzippy room for my weekly touch-base with my assistant.
Meetzippy allows you to share your screen, record the meeting and even collaborate with a virtual whiteboard.
If you are interested in Meetzippy, send us a message via our contact form and we will help you out.
Zoom
Zoom becomes necessary when someone must meet using their phone. It does all the things Meetzippy does. Some people love this software while others hate it. We simply prefer Meetzippy because we have more control.
ClickUp
To optimize communication with remote workers, some form of project management software is necessary. ClickUp was designed as an alternative to Asana and it does a great job indeed! We have used ClickUp for 2 years now. We love the ability to assign permissions on a granular level. ClickUp is easy to use and very intuitive.
Clockify
We require our remote workers to add their time to Clockify. It is an online time clock system that enables time to be broken into projects. It is very easy to use and integrates with many common software tools.
Headset
A headset with a microphone will be required for remote meetings. Pick one you like and recommend it to your remote workers.
Addressing Security Concerns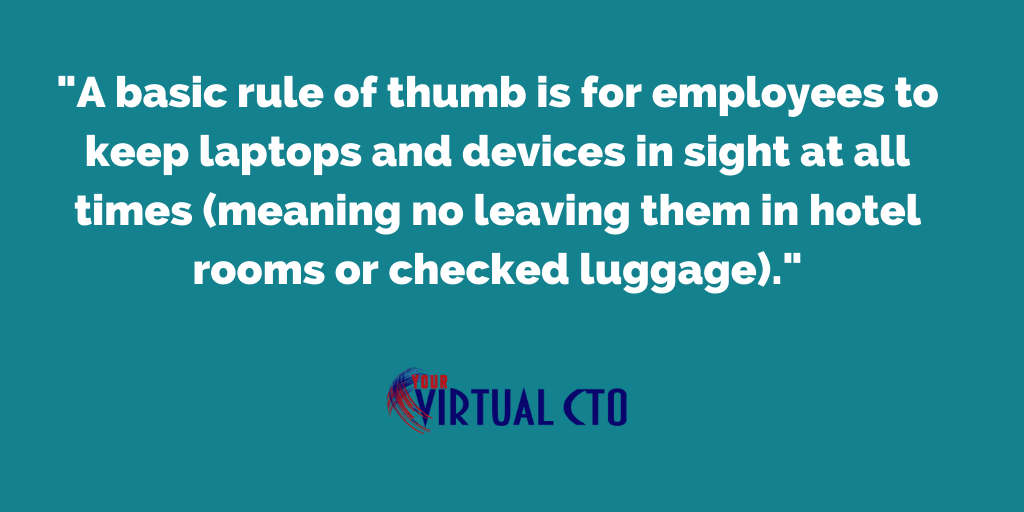 Keeping Devices Safe
It's good to have a set policy in place for how remote workers manage their physical devices. A basic rule of thumb is for employees to keep laptops and devices in sight at all times (meaning no leaving them in hotel rooms or checked luggage).
Security Protection
If the company owns the device, the company should be ensuring that the device is properly protected with up-to-date antivirus, device encryption, and firewalls. Cybersecurity policies should designate which devices (organization-owned v. employee-owned) can be used for which kinds of business activity.
Public WiFi and Computers
A firm policy here could avert disaster, and abstinence, at least in this arena, is the best policy. Organizations should prohibit remote workers from using public WiFi and shared computers for work-related activities.
Final Bits of Advice
Focus on Goals
One of the main reasons employees may desire a remote work situation is to escape the office pressure of always seeming busy. Remote work, by its nature, lends itself to goal-oriented, not activity-oriented management. As a manager, focus less on how much time employees are spending on tasks and more on their deliverables.
Communication Needs to Be Open and Expectations Need to Be Clear
With distance, it's harder to synchronize expectations. It's also easier to let dissatisfactions fester — and that's true for both managers and employees. Therefore, it's important teams are communicating often. It's also clear everyone knows what's expected of them and by what standards their work is being judged. Setting deadlines and scheduling standing check-ins is a great way to keep everyone on the same page and working toward the same goals.
Make an Effort to Foster Community
It's difficult, but not impossible, to instill a company culture in a virtual environment. Team members should be encouraged to interact online in ways that engender community and camaraderie. Little observances, like birthdays or sales goals met, can be opportunities for celebratory digital interactions. The right communication and collaboration tools will also lend themselves to spontaneous interaction.
To be successful with remote teams you must foster some form of community.

Tweet
Finally, scheduling regular on-site get-togethers is another way to instill company culture. The takeaways from a retreat or office visit can serve as the foundation for a strong team culture even when workers are physically separated.
Benefits are Plentiful
While the current pandemic has caused us to rethink remote workers, the benefits have always existed.
For employers, those benefits come in the form of a bigger potential pool of workers. When an employee pool isn't geographically restricted, the likelihood of finding the right employee increases tremendously. Out of area employees can also be cheaper in many cases, saving employees money.
There's also evidence that remote workers are more productive. According to a recent Global Workplace Analytics survey, a full 53% of remote workers reported they were likely to work overtime. That's compared to just 28% of in-office workers.
Remote workers spared a hellish commute also report feeling less stressed. In one study, Swedish researchers found that couples that have at least one partner commuting longer than 45 minutes per day experience rates of divorce 40% higher than those with shorter commutes. The aforementioned coronavirus also highlights a critical advantage of remote work: It could help keep workers online and healthy in situations where going into the office puts team members at risk. With increasing climate uncertainty and related consequences such as wildfires and drought, a distributed workforce can keep companies online in the event of a crisis.
Maybe the best argument for remote work is that many of the longstanding barriers to having distributed workforces have been toppled by technology.
If you need help getting set up for remote workers, Your Virtual CTO has a great package deal to offer you. Get in touch via our contact form below and we will make it happen for you.